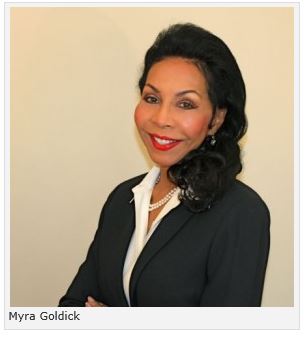 Radio interviews can be a challenge for an author; except when the interviewer is a real professional who knows what she is doing, thenthey can be a thing of joy.  Such was the case when I was interviewed recently  by Myra Goldick, talk show hostess of Never Say Impossible Radio.  For those who don't know her, Myra majored in Fashion Illustration at New York's Fashion Institute of Technology. Myra's love for art developed as a child at the age of five when she won a coloring contest in The New York Daily News. She knew then that her passion was to share her talent for creating and painting colors, bright and bold, soft and enticing, all blending in various forms of art. Creating became her life; it also saved her life.
She was struck down 5 years later with a devastating bout of polio. She was completely paralyzed and with years of braces, crutches and painful therapy, she clung to her passion for colors and her art. Her determination and desire to succeed led her to her recovery.
Myra studied fine art at the prestigious High School of Music and Art. Upon graduation, she received a full scholarship to The Fashion Institute of Technology where she studied fashion illustration. She spent 20 years in the corporate world of cosmetics where her career in marketing and sales flourished. She was instrumental in creating colors for women. She then returned to The Fashion Institute of  Technology where she received a degree in millinery design. Myra then went on to design millinery for some of the world's renowned fashion designers for over 10 years. Her fine art paintings in oil and acrylic have been on display throughout southeast Florida.
Myra believes creating on any level is like breathing. It lifts the spirit, while at the same time it validates and builds individual self-confidence. Through her personal experiences working with business professionals during her life's journey, she has learned many valuable lessons. These lessons have guided her on her path to success. While she will always deal on a daily basis with the physical impact polio has had on her body, her mind and mental energy has grown stronger. Her mission is helping others find their strengths, passion, and creativity, while maintaining a true sense of humor about life.
Now that you have learned more about this fascinating and  talented person, I suggest you go to  the following link to learn more about the things she is doing these days and afterwards, listen to my interview.
 http://www.myragoldick.com/3336/surviving-as-an-air-force-fighter-pilot/
Social Share